Zoals ik al vaker verteld heb ben ik dol op schilderkunst van de 19e eeuw en dan met name die van de Pre Raphaelite brotherhood. Wie en wat waren dat nou?
De prerafaëlieten waren Engelse kunstenaars in het Victoriaanse tijdperk, voornamelijk kunstschilders, die zich afzetten tegen de academische kunst als toen voorgeschreven door de Royal Academy of Arts. Prerafaëlieten wilden terugkeren naar de eenvoud zoals die bestond bij kunstenaars levend vóór Raphaël. Ze streefden eenvoudige composities en een nauwkeurige, realistische werkwijze na. De beweging begon in 1848 met de oprichting van een genootschap, de Pre-Raphaelite Brotherhood, met als belangrijkste leden William Holman Hunt, John Everett Millais en Dante Gabriel Rossetti. Na 1860 ging de beweging geleidelijk over in een vorm van estheticisme, ook wel de 'aesthetic movement' genoemd. Belangrijke exponenten van deze tweede golf waren opnieuw Dante Gabriel Rossetti Edward Burne-Jones, William Morris en Frederic Leighton, later ook John William Waterhouse en John Collier . De prerafaëlieten kenden nauwelijks een Europese pendant, maar hadden wel invloed op de bewegingen van het symbolisme en de Jugendstil.
Mijn persoonlijke favorieten zijn Dante Gabriel Rossetti die naast schilder ook dichter was, John William Waterhouse en Sir Edward Burne Jones. Maar er zijn ook vele anderen die de meest prachtige dingen schilderden.
Veronica Veronese
Study for the Bower Meadow
John William Waterhouse:
Lamia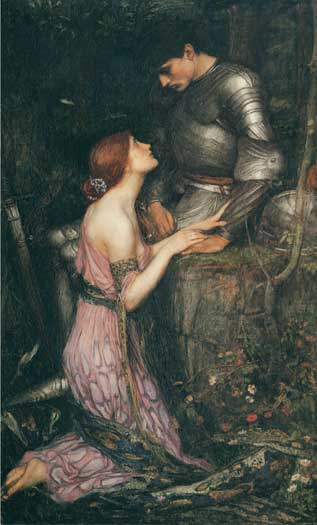 Nymphs finding the head of Orpheus
Psyche opening the Golden Box
Sir Edward Burne Jones:
The Golden Stairs
The Last Sleep Of Arthur in Avalon
Sleeping Beauty
Een volgende keer meer en andere Pre Raphaelite schilders.
© KH